How Much Are Singing Lessons – What's the Overall Cost?🥇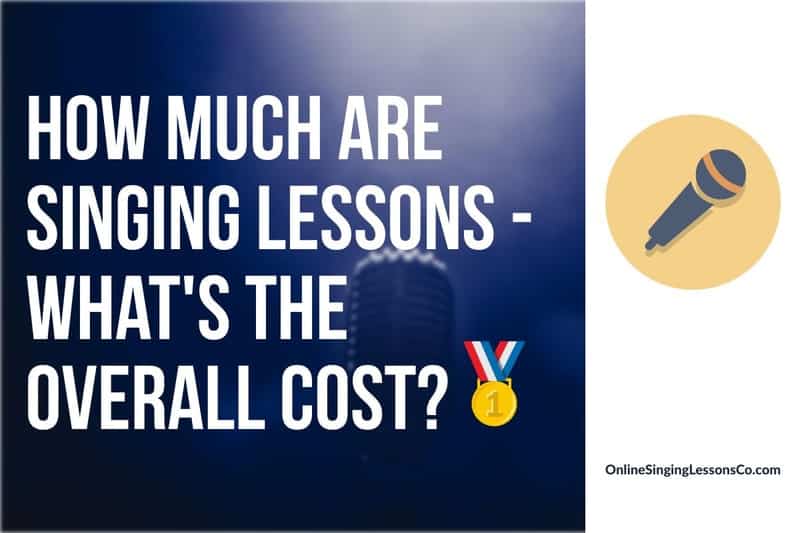 Among the most significant factors that you'll have to consider when choosing to get singing lessons is the cost. Hence, this will be the largest deciding factor in whether you can afford lessons from a particular provider.
However, figuring out the cost of singing lessons is not that easy, given the sheer amount of voice coaches and online singing lessons & programs that exist on the market.
Not to worry, as we've got you covered!
How much are vocal lessons?
As we imagine, this is the largest concern which we'll answer within this post. And don't worry, we're not just going to simply talk about private singing lessons, but we're going to discuss all of the types of singing lessons, like private, group, and online tuition.
Below we've compared the prices of each lesson type, and provided our professional opinion on the best method to choose when taking into account: affordability, quality, and ease of access.
With that being said, let's talk about the cost of singing lessons!
Private Lessons Cost
In private singing lessons, you'll be working one-on-one with your vocal teacher, in your home, or the singing tutor's studio.
One of the best aspects of this kind of tuition is that you can attend lessons that are customized to your unique goals, singing capabilities, and any other requirements.
The main problem with this type of tutorage is the overall cost. This is because you're paying on a per-lesson basis.
Whilst this does vary depending on the area in which you live in, you can safely assume that a 1-hour lesson with any decent vocal coach is at least $50 per hour.
Group Lessons Cost
Group lessons are very similar to private lessons, but obviously, you're attending the lesson in a group which has other students in it.
Since the tutor's time is divided between the number of students within the group, the cost of group lessons is a lot lower, at approximately 50-60% lower than individual/private lessons.
These kinds of lessons are usually run in a public space, like a studio or town hall, hence it also requires you to travel, so this cost must also be factored in when considering the best option for you.
Online Singing Lessons Cost
Online singing lessons from a program can be purchased online. Once you have signed up, you'll usually get access to a wealth of resources including: video lessons, workbooks, chat support, online community of students and teachers.
There are several reasons why online vocal programs are increasing in popularity, especially in recent years.
For one, you can take online lessons around your current schedule. If you're like many others who have a busy life, it may not be easy to fall in line with a singing tutor's schedule, especially when they're taking on new students and are always calling to re-arrange your lessons. With online lessons, you decide when to start, take lesson 1, 2, 3, etc.
Additionally, these kinds of lessons mean that learn in any location, you don't need to drive 5 miles to your tutor's studio and then back again. Instead, you can log into the online platform and take the lessons whilst in your living room, bedroom or even your car… It's up to you!
One other advantage of taking an online singing course is that you can near-enough guarantee the quality of the tutorage. What do we mean by this? Well, although we can't say this for every local singing teacher, some are better than others.
However, due to the increase in popularity of online singing courses, alongside the transparency of online course reviews and testimonials, it's easy to see the good online vocal teachers from the bad ones.
By seeing what students are saying, you can more easily make a better-informed decision about whether the vocal tutor is reputable and students are getting value from the lessons.
Finally, the most relevant advantage of choosing an online singing course is the cost. Not only do some of the courses provide free trials (like the one we've included below) but a month's worth of teaching is more affordable than 1 hour's worth of private tutorage.
An example being, the incredibly popular and reputable singing course '30 Day Singer' comes with a 14-Day Free Trial, which means that you can technically complete 50% of the course within the trial period, for free.
It's priced at $29,95 per month and comes with a 60-Day MoneyBack Guarantee, so there's really nothing to lose.
>>>Get Started With Your 14-Day Free Trial of 30 Day Singer<<<
Factors that May Impact the Cost of Vocal Lessons
Just how much singing lessons cost is dependent on a broad variety of factors. These include the following:
The Singing Teacher
One of the largest factors in determining the price that a particular singing lesson costs come from the level of experience, qualification, and track record of the teacher.
With that being said, more experienced teachers (who have often got more qualifications such as a university degree and master's studies) with a proven track record of successful students, will ultimately charge a lot more than younger tutors who have much less experience.
Geographical Area
It's accepted that different states and cities have unique living costs and wages. It's the same when it comes to the cost of singing lessons.
Learning to sing in a city like New York will cost far more than a smaller area like Madison Wisconsin.
Now you could choose to select a singing tutor who is based further out of the city, but you still need to invest your time (and money) into driving to their studio for lessons.
The Course Material
Course material which has a proven track record will obviously cost more money to obtain.
Additionally, course material which is more extensive, and in-depth will also drive the price higher. For example, a singing course which also includes direction and tips on how to deal with performance anxiety and stress, alongside how to take care of your voice in colder climates.
The more information that a singing program contains, the higher the cost.
Are Singing Lessons Really Worth It?
Singing lessons have been around for decades, and similar to any muscle, in order for the voice to develop, it must be trained in a methodical way.
With that being said, singing lessons offer that step-by-step workout for your vocal cords, and so there's no doubt that vocal lessons are imperative for long-term vocal health and to maintain a strong voice.
There's definitely a reason why near to all of the top performers in the world have regular vocal lessons.
The key question is, which kind of lesson type is best suited for your needs and budget.
Would you prefer to take private singing lessons, although they're expensive and you'll have to accommodate your schedule around your tutor; Or maybe group lessons, which are cheaper, but you'll have to sing with others and have less one-on-one tuition, not to mention you'll also have to travel; Or finally you might choose to take online singing lessons, where you can watch anywhere at any time, and they're substantially cheaper, the only downside being that it relies on your to self-motivate.
In our opinion, online singing lessons provide the most benefits, allowing you to have freedom of your time, reduced expenses since they provide a lot more value for money, and great support from both reputable singing tutors and fellow students.
As we mentioned before, 30-Day Singer is one of the particular programs that we recommend to readers, because it provides great value for money!
---
---